Hashtags were started as a way of grouping similar content or discussions to make it simple for social media users to identify stuff that interests them. Then these became one of those funny social media aspects that everyone uses. Hashtag strategy may be a little challenging to understand but, once you master it, the results start to show itself.
Although hashtags were first started on Twitter, now these can be used on almost every social media sites like Facebook, Instagram, LinkedIn, Pinterest, and TikTok, among other social media sites. Aside from the effort to do some research and be mindful of current trends, mastering the hashtag strategy gives you an excellent tool to engage your audience and boost your social effect.
You can use hashtags to increase impressions (views), likes, comments and shares when advertising your brand on social media. The hashtag (formerly known as the pound sign #) when properly utilised, can help and grow an audience, who are interested in your content to easily find you online.
You should definitely use hashtags if you're using social media to promote your business. Hashtags will not only increase the engagement and reach of your brand on social media but also grow your customer base.
Yet, using hashtags effectively requires more than just posting on Twitter on a popular hashtag like #digitalmarketing.
What is Hashtag (#)?
Hashtag is a word (or a group of words without spaces between them) starting with the symbol "#" also called the pound sign. These are keywords which groups similar content on social media. Social media users having interest in a specific topic can use and follow Hashtags to find out related content they like.
By including a hashtag in your post, you make it a part of a bigger discussion and widen the audience for your content beyond your followers.
Some facts about Hashtags:
These always start with symbol #, but you should not use any symbols, spaces, or other punctuation when using them. Otherwise it will be invalid or not work.
If your accounts are not public, then the users who have not followed you (non-followers) can't see the hashtagged content you post.
Instead of putting too many words in a row, make the hashtags short and simple. The important thing is to make it most effective and easy to remember for people.
Use hashtags that are precise and relevant to your niche. If you use a very unique hashtag that no one is going to use or search, then what's the point?
You should use only a few number of hashtags which are highly related to your post or content, as more hashtags may appear to be a spam to other people. Remember that most Social media platforms have different limits on the number of hashtags in a post.
Why should you use any hashtags?
Hashtag is a must-have tool for everyone who uses social media sites such as Instagram, Twitter, Facebook, and TikTok because of its significance. Hashtags are used to sort and categorize content and in that way hashtags help people in finding posts that are relevant to their interests or what they search for. Here are several reasons for using hashtags:
Increase Visibility of your Post or Content:
The key benefit of using hashtags is to expand the reach of your content i.e. becoming more visible to people. A TrackMaven study found that in Instagram, posts containing at least one hashtag got 12.6% more interaction than posts without any.
By adding relevant hashtags, your posts can reach a much larger audience and also increase the possibilities of people who are interested in the same topic finding your content through hashtags. For example, if you're a fitness enthusiast then using hashtags like #fitness, #fitfam, or #workoutmotivation, can help your posts reach more relevant audience.
Organize your Content:
Hashtags were mainly introduced to organize your content into categories and so that other people can find it easily. This is very beneficial for businesses and social media influencers that want to develop their own unique social media brands. What's the benefit? By using brand-specific hashtags in your postings, you can start promoting a feeling of community among your followers and they are inspired to do the same. For example, millions of individuals use the #justdoit hashtag, which is the trademark of Nike brand on social media.
Nike Vectors by Vecteezy
Tracking Latest Trends on Social Media:
If you want to remain up to date on latest trends, news and events about a topic or industry you are interested in, Hashtags can also be used to track and find them all. You can monitor what your competitors are doing and how your target market is reacting to certain issues by following hashtags that are relevant to your industry. You can leverage this to create or customize your own social media strategy and create content that appeals to those who are your target audience.
Increase Engagement:
Using hashtags is a fantastic approach to increase engagement on your posts. Instagram posts with 11 or more hashtags had the highest engagement rates, per a study by Simply Measured. Use hashtags, though, that are pertinent to your content and target audience. Your postings may appear spammy if you use too many, wrong or less relevant hashtags, which may lower engagement. Most Instagram user use 1 to 3 hashtags as per Statista.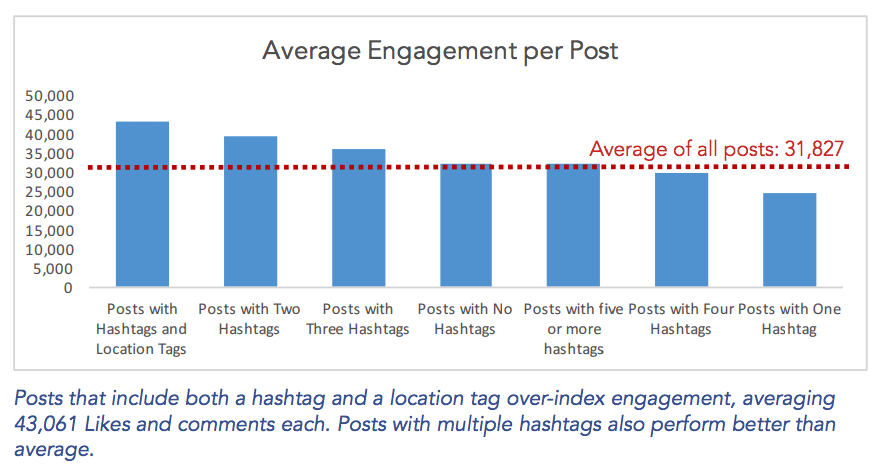 How to Use Hashtags for All Social Media
Hashtag Rule for Twitter
You should research which hashtags to use before adding them to your post. Using one or two hashtags can increase your engagement by 21%. You can achieve 17% better engagement if you use less than 100 characters in tweet according to statistics from Buddy Media's "Strategies for Effective Tweeting".
If you add any links to your tweet then it has the chance to have 86% more retweets. Also remember that Tweets with Hashtags Boost Engagement by 100% for Individuals and 50% for Brands according to MarketPath.
Hashtag Rule for Instagram
Analytics show that when you use 11 hashtags or more on a post, engagement rates are increased by 79%. Even a post with just one hashtag on Instagram can boost your post by 29%. (Sproutsocial)
87.7% Instagram users prefer to place them in their captions, but you also can use them in comments. Instagram profiles with between 5,000 and 10,000 followers enjoy an average of 20.9% more reach with hashtag usage.
Hashtag Rule for Facebook
A study by Socialbakers revealed that Facebook posts with between 3 and 5 hashtags averaged at 416 engagements. Adding trending, popular, and relevant hashtags to your niche specific hashtags will boost your engagements.
Hashtag Rule for LinkedIn
Use 2 broad-range hashtags and a single niche specific hashtag at the end of your posts. You can use LinkedIn search to check hashtag frequency.
Hashtag Rule for Youtube
According to Forbes, Youtube views increased by 26% on YouTube videos with hashtags. Additionally, YouTube videos and video comments with hashtags also enjoyed 14% more engagements than videos without them.